2015 - date
In the last two years we have been re-thinking and re-forming our band - the programmes we devise with text (written by Viven Jones) have been much in demand and demonstrate an appetite for context in presenting early music - hence the development of a three-part 'story' behind 'A Shadow Love', 'The Darkest Hour' and 'The Last Pavane' which we have perfomed at The Wigtown Book Festival in consecutive years. This is a development we intend to continue exploring.
2014 too....
Our music and text programme 'Two Lilies' was premiered at the Wigtown Spring Festival and at Ruthwell Church - we played at Duchray Castle (near Aberfoyle) for a wedding, for a Mary Stewart weekend at Falkland Palace and have the celebration of a brewery coming up in Dunfermline, plus another performance of 'Two Lilies' at Elshieshields Tower, near Lockerbie
in September, and further performaces in 2015 D&G Arts Festival tbc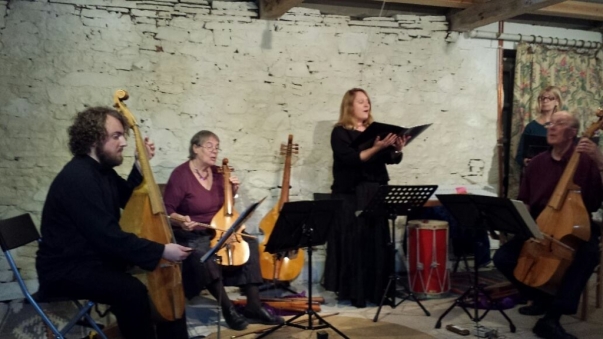 Elshieshields Tower, Lochamaben
---
2013 was a busy year....
We were privileged to play at the Queen's Gallery at Holyrood Palace at the exhibition of Leonardo da Vinci's anatomical drawings in September.
---
There were nine performances in all of 'Red Rose, White Rose', all well and warmly attended, the last almost a year to the day of the first.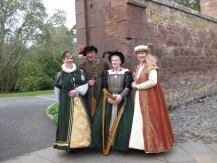 'Red Rose - White Rose' at Paxton House, Berwick upon Tweed
a dramatised reading with music for Flodden 500
among others there were performances at Paxton House, Traquair Medieval Fayre, Abbotsford House, and Broughton House.
July
Sunday at Blackwell's Bookshop in Edinburgh - outside the street-side windows ambulances blared past, followed by a torrential rainstorm but nothing spoilt the 45 minute concert before an audience who did not promenade, but sat through the whole concert. Thanks to Alison Tollick for inviting us.
.........
Monday - lunchtime concert in the Carlisle Festival at St Cuthbert's Church - large audience, most appreciative of our efforts - many stayed to examine instruments and to ask questions. We were well in tune and the ensemble playing was tight and harmonious - a most enjoyable experience all round.
April - a very warm welcome from the Moniaive Arts Society for our musical tour of Renaissance Europe - a lively Q&A session followed the demonstration.
and,
a pleasing Good Friday concert with the Moffat Music Society in the Old Well Theatre - quite a challenging acoustic for musicians (being a theatre it's designed for speech) but the warmth of the audience made up for any difficulties.
February 2010 - Richard and Vivien Jones spent a great afternoon entertaining the 'Golden Oldies' of Dalton in Annandale - giving a lightning tour around the musical courts of Europe on a variety of instruments - musicians, instruments and costumes were examined and admired and the audience of youthful 70-90 year olds participated at various points.
August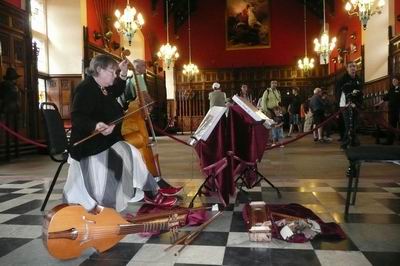 Just finished a series of Sundays at Edinburgh Castle - such a wonderful place to play and always a warm welcome from the public and the stewards - then we shot off for two days on the Isle of Bute, playing at Rothesay Castle, amongst some pretty splendid scenery - sea lochs and mountains and a mixture of extremely wet and brilliantly sunny weather.
May
after a private party in the Dacre Hall, Lanercost, Cumbria.
'The event wouldn't have been the same without your music, it was perfect for the occasion and the setting. I'm fairly sure we'll be calling on your services again before too long'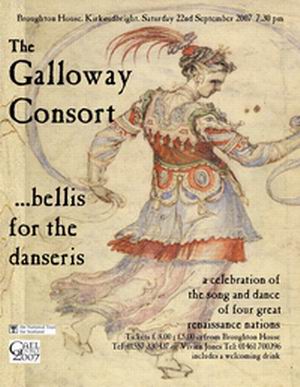 To Dance...To Sing
The Galloway Consort
at The Edinburgh Festival fringe
review by Margarita Semsi
Three Weeks review website
There is something about Renaissance music that is inherently romantic and melancholy. 'To Dance... To Sing' is a performance of music and song from the time of Mary Queen of Scots that manages to not only recreate the atmosphere of an era, but also familiarise us with what the Queen's education and taste must have been like. The multi-instrument playing musicians are all skilled and, being faithful to the era, they play on copies of period instruments, such as the viol and the more obscure crumhorn. Most tunes are vivacious, all are romantic and reflect a period in time where the ideal required love to be unfulfilled. The singer's voice is clear, suits the songs perfectly and is ultimately moving.
September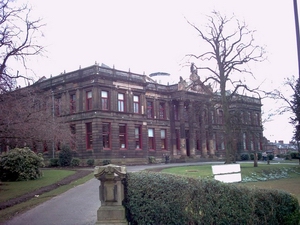 We were imvited to play for the opening of 'A Royal Engagement' a celebration of a tapestry project running at the Dick Insttitute in Kilmarnock - a companion institution with Dean Castle where the Van Ralte collection of early instruments are kept. We were joined in our playing by Scots poet, Rab Wilson and his wife, Mary, who sang a couple of our 16th century songs with us. We do admire the museum staff there who are always cooking up interesting projects for the people of Kilmarnock. We are giving a school's workshop associated with the time of the tapestry in October.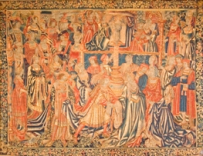 This is the tapestry at the core of the exhibition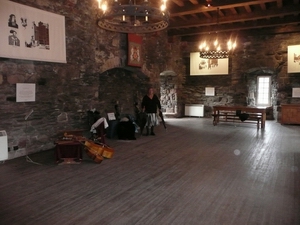 An extra gig for Historic Scotland - two days playing at Rothesay Castle on the Isle of Bute - playing to entertain Scotland's Culture Minister, Fiona Hyslop, there on a flying visit. She chatted to us for a while and showed a keen interest in the instruments and the music. Most of the time we played and talked to the castle visitors - a highlight being two teachers from Malawi on exchange with the local high school who joined in playing, dancing and singing with us, but there were many people passing through excited to come across the castle musicians.
May
The Early Music Forum of Scotland presented a performing day at The Kelvingrove Museum and Art Gallery in Glasgow - we played in the Renaissance Paintings Gallery.We played some of the new programme we are preparing for our Carlisle Music Festival concert of July 5th in St Cuthbert's Church - which went very well.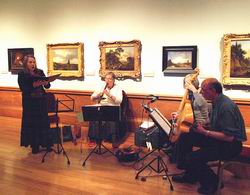 Adriana, Vivien, Vickie and Richard
at Kelvingrove, Glasgow
March - played at a reception in Kilmarnock, to celebrate the return of the Eglinton Water Colours to East Ayrshire. Dean Castle, as well as being a fine building, houses an important collection of early musical instruments which is open to the public. Guests were most appreciative of the music which accompanied their lunch. The band stayed to play in the castle tower in the afternoon.